Positive Focus announces new imposition packages from Ultimate Technographics

Positive Focus distributor of Ultimate Technographics Impostrip products in the UK and Ireland, has announced new packages designed to offer improved performance at the most economic price.

Commenting on the changes to the product range, which are being introduced at the beginning of December, Ivor Dixon, Managing Director of Positive Focus said, 'Impostrip provides hot-folder capable imposition, with the capacity to handle a very broad range of source files. There is a well-proven common engine underlying the range, but the individual products were becoming too specific, so this opportunity to reduce and rationalise the range is very welcome. It should be less confusing for users, and by bundling a core product with what were previously options, we have shown some significant cost savings, too.'

Delays in the imposition part of the pre-press workflow can have a severe impact on press utilisation and productivity. Impostrip works quickly and efficiently, with little need for manual intervention. 'Swapping an under-performing product for an Impostrip solution will not only save time, there will be other benefits as well.' Dixon continued. 'Impostrip can create a simple hot folder workflow, or something more comprehensive can be driven by Enfocus Switch and incorporate file reception and filtering, pre-flight, proofing and imposition. Printers without a proprietary workflow can have an automated solution customised to their immediate requirements and expand it as they can afford.'

'Probably the biggest change in the range is the introduction of Digital Automation 2009, a bundle of OnDemand Digital for PC users, with modules for XML integration and Optimised PDF handling. As integration with front end systems, web to print portals, MIS, variable data print and other workflow elements become essential to efficient business practices, more and more users need the optional modules. This bundle saves them well in excess of £1,000 at present prices, which is a welcome bonus in the current environment. OnDemand Digital is still available, but the offset product has been renamed Impostrip Econo Edition and now offers a very well featured, automated solution for the small format printer starting at under £1,000.'

'Product maintenance has been simplified and we now only offer the Titanium Service Plan which provides all updates, updated filters, and upgrades within a fixed price. We will also be offering basic training by web-conferencing to keep costs, and our carbon footprint, down.'

'Many Digital printers are moving to Impostrip to overcome the limitations of the DFE they use and avoid the need to pre-impose their artwork. We have recently produced templates for use with the automated card slitters which are common in this market, so we can show some significant speed improvements in Business Card production. Anyone purchasing an Impostrip solution from us will be able to request these ready to use templates as an extra bonus.'

Fully working 5 day demos of Impostrip products can be requested at www.imposition.com. Contact Positive Focus (www.positivefocus.co.uk) on 0333 088 1801 for more details of the new products.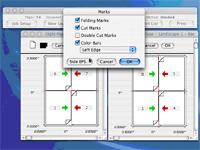 :Impostrip products are easy to learn, with a simple 4-step process and a training video included