Victory's All New Digital Debut!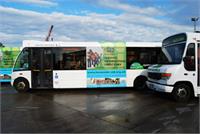 The times are indeed a changing and never has it been truer than at Victory Design. Towards the end of 2008 Victory introduced a wide spectrum of digital products to significantly improve the selection of what they have to offer. No longer will their long standing collection of Multifix digital medias be featured, instead it will their new line of JAC and Avery Dennison digital vinyl that they'll be giving prominence to. Already they are considered to have been implemented extremely successfully due to the fact that Victory has focused on products that offer quality as well as a competitive price.
The Avery digital on offer comes in either white or clear and both types include the option of a compatible laminate, perfect for most types of applications. Choosing the two year digital media gives you an extremely inexpensive and economical media that can deliver optimum results.
On the other hand their broad JAC digital media range offers a herculean standard in quality vinyl that is well known to provide an excellent finish. Including gloss, matt white and clear vinyls all with matching laminates and also featuring monomeric and polymeric within the range, JAC digital media has unrivalled versatility.
If you produce pop up banners Victory's grey backed Euromedia produces incredibly effective print results and boasts a 2D guard laminate as a matched system to offer protection to your prints. Alternatively their Soyang digital range presents their customers with a choice selection of banner materials including front lit banners, self adhesive banners, canvas, one way vision and many more.
In recent years the market for Vehicle Wrapping has exploded due to the rising significance of company branding and the cost of it coming down to an affordable level. In light of this fact Victory have started up Vehicle Wrap courses for people to attend at their premises and incorporated several types of Vehicle Wrap digital media that have been tested to suit any application.
The notoriously easy to apply Arlon Vehicle Wrap media is an excellent addition to Victory's line up, the 4560GTX being a bubble free adhesive on a five year polymeric and a great choice for beginner or pro alike. Also new is their JAC Digital Cast which boasts a superior finish and proffers a matching laminate guaranteed to impress.
Things are also improving on Victory's website on a daily rate. Now, in order to improve service to customers, they've put profiles online to download for Roland solvent printers using the versaworks rip software so getting the best results has never been easier. For more information regarding Victory's range of products and services please either visit their website at www.victorydesign.co.uk or call 01246 570 570 for help and advice.