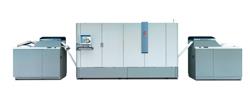 Océ has announce the global debut of the Océ ColorStream 3500 high speed inkjet system, with a unique combination of CMYK output, fifth and sixth colour printing and simplex/duplex flexibility previously available only on Océ toner based continuous feed printers.The new Océ ColorStream 3500 product line extends the proven Océ JetStream inkjet series. In addition, the new system extends the reach of the Océ inkjet systems as a solution for mailstream environments to transition to full colour printing.The flexible full colour web press gives customers a reliable solution for transaction, TransPomo, direct mail, book and manual applications. The 3500 provides a modular offering in various single and twin configurations. The production and media flexibility contributes to a future proof system that simplifies the transition of applications and business models to more sophisticated documents with variable personalisation and smarter communication in colou.Users can chose from a combination of specialty inks, including MICR, along with CMYK printing to support the widest range of business opportunities. The broad range of standard and special papers between 60-160 g/m² ensures versatility for all types of printing requirements.The ColorStream 3500 system offers extreme productivity for users with volumes up to 12 million A4 pages per month on a single system or up to 24 million A4 images per month on a twin system. The system prints at75 metres per minute with a print width of 540 mm (21,25"). That translates to 505 A4-size ppm (537 letter) for a single unit or 1,010 A4-size ppm (1,070 letter) for a twin configuration, at 600 x 600 dpi resolution. With optional multilevel dot modulation, crisp details and smooth halftones can be produced at full rated speed.The Océ ColorStream 3500 system is the first high volume, full colour inkjet system that combines Océ DigiDot piezo electric drop-on-demand technology, Océ SRA MP controller power and the flexibility of Océ VarioStream  L-, H- or U-shape twin configurations. Users can quickly switch from duplex to simplex printing without compromising productivity.
While the majority of the digital print volume is still monochrome, the market is trending towards full colour plus additional colours. An entry level monochrome configuration of the Océ ColorStream 3500 system allows print providers to start with small colour volumes and just the same be prepared for future colour business. The transition to colour often comes gradually, and typically not all the print volume switches to full colour immediately. In the early stage, the majority of the volume remains monochrome, while a small but growing share switches to colour. The flexible Océ ColorStream 3500 system allows users to adapt the printing mode to match their pace of colour transition. A 5th or 6th colour is easily field-upgraded. A full colour OcéColorStream 3500 can be set up as monochrome only system when needed. In addition to Océ's new high fidelity pigmented inkset for CMYK printing customers may add MICR or other specialty inks.
The Océ ColorStream 3500 system encourages greater daily operational efficiency through its high ease of use for the operator. Printer operators can manage the inkjet system as easily as their existing continuous feed devices through wide operator intervention spaces inside the system, easy to adjust sensors, paper feed support and the familiar Océ GUI look and feel.
The 3500 was specifically designed for suitability and coexistence with their toner based systems. Its size, weight, power requirements and modular set-up allow the Océ ColorStream 3500 to be installed in almost all environments. Print and data centres can migrate to high volume full colour inkjet production with minimum impact on existing infrastructure and workflow. The traditional right-to-left printing direction of toner based continuous feed systems was chosen for the Océ ColorStream3500 system for easier integration into existing paper logistics. Printed rolls leave the printer on the same side as they do on toner based machines. The Océ ColorStream 3500 system was introduced at the Canon Expo in Tokyo.The first Océ ColorStream 3500 placement is planned for early 2011, with general availability by mid 2011.
In 2010 Océ joined the Canon Group of companies. Canon develops, manufactures and markets a growing line-up of copying machines, printers, cameras,optical and other products that meet a diverse range of customer needs. www.canon.com.
www.oce.com