Canon UK has launched two new high speed colour large format printers - the 24 inch imagePROGRAF iPF6300S and 44 inch imagePROGRAF iPF8300S. Using Canon's 8-colour LUCIA EX pigment ink system to deliver outstanding image quality, the two new models provide the perfect balance between quality, productivity and total cost of ownership (TCO), making them ideal for the production, proofing, photographic and in-house print markets.


The imagePROGRAF iPF6300S, successor to the iPF6000S, and the imagePROGRAF iPF8300S have been developed to complement Canon's large format printer range, particularly the imagePROGRAF iPF6300, iPF6350, iPF8300 and iPF8000S. In addition to the superb black reproduction, wide colour gamut and exceptional scratch resistance that were acclaimed in the iPF6300, iPF6350 and iPF8300, the two new models feature higher print speeds and broad workflow compatibility, as well as lowering the total cost of ownership (TCO). A wider colour gamut enables the new models to be used in applications that require greater precision, while a colour profile designed for poster production gives them an advantage in producing vivid, eye-catching graphics.


Productivity is improved through a new mirrored nozzle layout and the option to print in 'Fast' mode, which enables the print speed to be as much as doubled, while still maintaining a level of print quality that rivals that in standard mode. This is a major advantage when producing output such as posters and point of sale (POS) display items, where turnaround is time critical.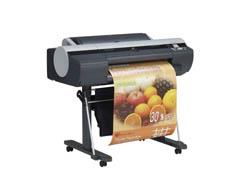 The printers also feature 'Proof', 'Image' and 'Economy' modes that enable the user to decide what level of image quality they need when printing. 'Proof' mode produces sharper text and lines, making it ideal for high precision proof printing, while 'Image' mode enables high precision printing of text and lines without a reduction in speed, making it a good choice for users for whom placement accuracy is less important than speed. 'Economy' mode reduces ink consumption by almost 50%, making it convenient for producing posters or checking layouts during test printing.
The new models are compatible with a broad range of major RIPs, enabling users to integrate them into their existing workflows. Both models feature a 160GB built-in Hard Disk Drive, which enables storage of large print jobs that can be easily accessed from the printer's user friendly LCD panel. Productivity is further improved by Gigabit Ethernet compatibility, enabling fast data transfer, even for data heavy files or high volume print jobs.


The printer driver can be tailored to suit the user's level of expertise and control of the print can be done from the large, bright LCD operation panel on the front of the printer. Together with the help of Canon's print plug-in for Microsoft Office and PosterArtist LT software, which is bundled with the printers, even users unfamiliar with design can create professional looking posters, display items, presentation charts and other large format documents. The new version of the full PosterArtist package - PosterArtist V2.20 - is available separately. This supports Windows XP, Windows Vista and Windows 7, features new artwork and can be used with other Canon printers. For designers and photographers, the Canon print plug-in for Adobe Photoshop makes printing high precision images edited in Adobe Photoshop possible.


The accounting functionality calculates pages printed and the associated costs, enabling the user to monitor printing costs while also helping them to understand and manage their paper usage. A number of new 'alert' features have also been designed to improve productivity. The iPF8300S gives an audio notification when the high capacity ink tanks need to be replaced, something that can be done during a print job on both models, thanks to Canon's 'Hot Swap' ink system. In addition, email notifications can be sent to the user's computer or mobile phone when jobs are finished, when errors occur and when it's time to replace consumables, helping to minimise downtime.


 "The imagePROGRAF iPF6300S and iPF8300S are comprehensive solutions for the easy, timely and high quality production of proofs, photographs, posters and POS display material," comments Gill Mussell, LFP Product Manager, Canon UK. "These new additions to our large format range will enable Canon to expand its share of the large format print market and take advantage of the new opportunities offered by the growing demand for large format printing solutions in-house."


The imagePROGRAF iPF6300S and iPF8300S are now available in the UK and Ireland.


Further information about Canon UK Ltd is available at: www.canon.co.uk