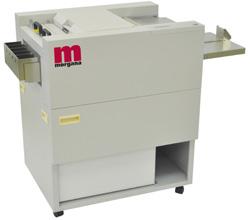 Morgana has announced the official release of its CardXtra Plus finishing unit, having signalled its introduction at IPEX in 2010.CardXtra Plus is the ideal small footprint trimming and creasing unit for the busy High Street print outlet or in-plant operation. Whilst fast and accurate business card production has been the mainstay of the CardXtra product for some seven years, this new and enhanced solution extends the product's capabilities to a wider range of jobs, including postcards, greetings cards, calendars, double and multi-fold business cards, bookmarks, and even playing cards.
The CardXtra Plus is capable of slitting, cutting and creasing, and can be pre-programmed with up to 20 jobs. Ray Hillhouse, UK Sales Manager for Morgana, commenting on the capabilities of CardXtra Plus, said: "Whilst this unit is ideal for the High Street printer looking to provide a fast business card trimming service, there is really no reason why every jobbing print business in the country shouldn't own one. CardXtra Plus speeds up the finishing of so many small jobs that the pay back period for the device can be extremely short."
In order to promote the visualisation of the product in action, Morgana has produced a video demonstration of the product: http://www.morgana.co.uk/product_71.htm

CardXtra Plus: Product Details
With run lengths becoming shorter and jobs being personalised or printed with zero overs it is essential to have an accurate, easy to use reliable finishing system; and that is exactly what the CardXtra Plus provides.
CardXtra Plus can feed sheets up to SRA3 in size and can trim, cut and crease in multiple positions. The accuracy of the new CardXtra Plus is now significantly better than that of many more expensive units at +/- 0.1mm accuracy. When producing business cards an average run of 250 cards can be finished in less than 2 minutes. A small job such as this that would previously have needed 18 cuts on a guillotine - typically taking upwards of 15 minutes - can now be offered as a "while you wait" service.
The versatile CardXtra Plus now has the ability to take SRA3 sheets, trim them to A3 and crease them to produce finished A4 4-page brochures. Equally easily it can finish the job to A4 which can then be creased to make 4-page A5 leaflets or multiple creases for a wide variety of applications.
The options are endless and with the million cut guarantee the CardXtra Plus will be serving your business for many years to come. An optional perforating unit provides an even wider gamut of production possibilities.


www.morgana.co.uk