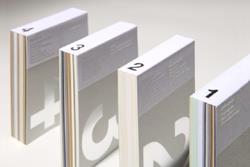 In the coming weeks, members of the creative world will be taking receipt of the latest GFSmith stock selector. Coming over three years since the release of its predecessor, the brand new selector boasts an ambitious format and fresh thinking.


The GFSmith stock selector has always been widely regarded as the benchmark specification tool for coloured and textured papers. Invaluable as a catalyst for creativity or as the solution to design challenges, the GFSmith selector takes pride of place on the shelves of every self respecting creative studio. The latest version of this iconic creative mainstay will not disappoint its devotees.









At first glance, the beautifully produced box format is significantly more substantial and comprehensive than earlier incarnations. On closer inspection, it offers two modes of paper selection, reflecting the different ways in which its users specify paper. For those making specification decisions based on colour, every substrate has been arranged in spectrum order, regardless of material type, texture or weight, and then divided into two swatches: one for black and white stocks, and one for colours. For those searching by paper type, the Colorplan, Smooths, Textures and Specials ranges are displayed separately.


By staying in tune with the needs of the creative community, and by employing the services of the best creative minds, GFSmith always strive to present their range of products in a way that is logical, helpful and inspiring. The new selector is no exception. The evolution in design is indicative of the company's commitment to continually serve and inspire its market, and secures their position at the forefront of paper innovation.









To request your personal copy of the new selector, email GFSmith at selector@gfsmith.com


www.gfsmith.com