EFI™ Expands VUTEk® QS Family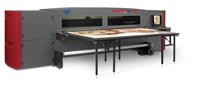 EFI have introduced new models as an ease of entry platform for graphic display printers. They have announced the availability of two new models in the award-winning QS superwide format printer family. The addition of 4 and 6 colour configurations to the industry leading QS2000 and QS3200 family of printers offers ease-of-entry options for sign printers and graphic display manufacturers who wish to add digital UV production to their product mix.

"On the heels of installing our 300th QS-series printer," said Chuck Dourlet, vice president of marketing EFI VUTEk, "we are expanding options for our customers even more. By introducing ease-of-entry options for the QS family, we are offering greater flexibility to the graphic communications market enabling more service providers to migrate to digital production using a proven UV platform."

The QS2000 and QS3200 offer superior image quality at 1080 dpi on both rigid and flexible substrates up to 3.2 metres wide and up to 5.1 centimetres thick, with changeover from flexible to rigid substrates in less than a minute, and uses EFI's industry leading QS Series UV inks. With this expanded offering, customers can now choose from systems with four colours, six colours, or six colours with white ink for a superwide format printing solution that best meets their financial and production needs. Additionally the QS 4C and 6C models are field upgradeable enabling customers to enhance printer capabilities as needed.

For more information about the VUTEk product line and other solutions from EFI, visit www.efi.com.