Wyzrds Co. Ltd of Aylesbury, has introduced a new signage solution to the worldwide problem of securely mounting signage made from twin flute plastic and similar materials.
Fluted Polypropylene board, known as "twin-flute" is very popular with sign makers, especially for short term and event signage, but is a notoriously problematic material to mount securely on a supporting upright. That is, until now.  A solution has just been launched that provides a secure fixing method to ensure signs and notices remain in the correct position and looking good.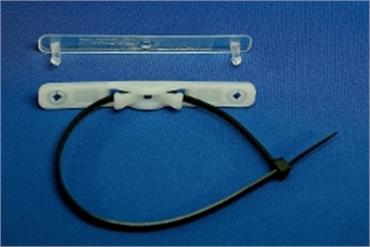 LAMINAID TF Clips are two piece plastic clips which, when locked together through the top and bottom of a twin flute sign, provide secure damage free mounting and ideal display positioning.
 
The transparent front plate has two self penetrating spikes which are pressed through the board and lock into the back plate securely. The back plate incorporates two sprung and two rigid feet for maximum grip to prevent the sign from slipping down or blowing round and out of vision. The flexible link between the sign and the tight mounting point allows the sign to spill wind, thus reducing resistance. Multiple fixing methods enable attachment of the sign to any surface such as poles, rails, chain link, or even flat fences and walls.
Pat Lennard, Managing Director of Wyzrds, the creator of Laminaid TF explains: "Laminaid TF was invented to solve the twin flute mounting dilemma, and we're expecting it to rapidly become one of those 'How did we ever manage before?' accessories. It does the job brilliantly and saves time, as well as providing an extra profit centre to the sign trade in these hard times. This innovative gadget is physically small but offers huge benefits to both signmakers and their clients. For the first time, the functions of fixing and display are separated and the requirements of each are met successfully, without compromising either. We're all familiar with the sight of limp and battered signs hanging from cable ties through ragged holes bored in the corrugated plastic. Their effectiveness is seriously reduced by their fixing method, which can result in a dissatisfied client for the signmaker.  Now with Laminaid TF Clips, there is a solution."
Laminaid TF can be secured with a cable tie (as pictured) or a variety of fixings including a screw or nail through the centre of the clip into a tree, fence or wall where ties cannot be used. As an alternative to cable ties, twist wire for strength, rubber bands for one day events, or even cotton twine for economy, can all be used..
The signmaker's view comes from AA Signs General Manager Andrew Banyard, who trialled 1,000 units and says "We reuse the majority of the signs we produce and the Laminaid TF clip has provided us with a better way of fixing signs, giving a more professional and hopefully longer lasting product. We have recently completed a test event for the 2012 Olympic Games with the new TF clip, which proved really successful. From our perspective this is a great new product which is perfect for our application."
For Further information please contact Wyzrds.Co. Ltd

Tel: 01296 586498   email:  info@wyzrds.com