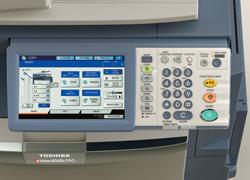 Toshiba has announced the launch of eight new multifunctional colour printers, which offer professional solutions with various options: customers can choose from a range of eight PRO models from two series (e-STUDIO2040C/2540C/3040C/3540C/4540C PRO and e-STUDIO5540C/6540C/6550C PRO). All of them provide crystal clear graphics and constant colours at convincing cost efficiency.
The new e-STUDIO4540C PRO series mainly targets in-house print shops and print service providers with a mid-volume, yet frequent colour usage, the even more powerful e-STUDIO6550C PRO series is perfect for larger print establishments that expect reliable colour performance for high-volume jobs.  The new e-STUDIO PRO series has the right model, with a perfect cost performance ratio, to meet every customer requirement.
The new models feature powerful EFI Fiery controller systems with colour support according to leading industry standards, and are compliant with Mac OS X and Windows. Genuine Adobe PostScript 3 guarantees maximum compatibility with professional productivity and colour workflows. And the integrated ICC colour management ensures exact colour matching - even in standard office applications.
Toshiba's new e-STUDIO PRO systems also offer excellent speed and volume capabilities, with printing speeds of up to 75ppm, paper capacities of up to 6,000 sheets and flexible finishing options.
"With the new e-STUDIO4540C PRO and e-STUDIO6550C PRO series, professional printing has never been so convenient, efficient and productive" says Chris Mills, Product Manager at Toshiba TEC UK Imaging Systems Ltd. "Each model enables the user to control the whole printing process literally at the touch of a button. And the completely revised version of Command WorkStation software boosts daily productivity even further."
Further information is available at www.toshiba.co.uk/imaging, or by calling Chris Mills at Toshiba TEC on
01932 580100