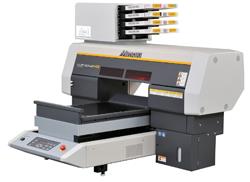 Mimaki Engineering Co. Ltd., is introducing the UJF-3042HG desktop flatbed printer, bringing even more capability to desktop LED UV inkjet printing. Maximum height for printing materials is expanded to 150mm, and applicable ink colours are 6 colour plus white by adding two ink slots.


"The introduction of the UJF-3042HG underscores our commitment to continuing innovation in the development of wide format printing products," said Mike Horsten, Marketing Manager, of Mimaki Europe. "This desktop LED UV inkjet printer expands the thickness of materials that can be used for print to 150 mm. Even most larger, more expensive printers can only print on materials with a thickness of up to 51mm, making this a huge breakthrough for the industry. The printer can print directly on A3 media (420 x 297 mm)."


The UJF-3042HG is being shown at FESPA Digital 2012, in addition to the UJF-3042FX which was introduced in September 2011.


The UJF-3042HG is able to print on substrates that are impossible to use in a conventional model. The range of printable substrates, including plastic, metals and wood, continues to grow and to boost business opportunities. Its small environmental footprint is another differentiating factor for this printer, with long life, low power consumption LED curing. With the introduction of the UJF-3042HG, not only are thicker substrates supported, but two print channels have been added to support 6 colour printing plus white and clear inks. This produces gorgeous, higher definition output with beautiful gradations that cannot easily be achieved with 4 colour printing. In addition, white and clear inks add value to printed products by providing under/over-coating on transparent or coloured materials, as well as gloss or matte finish.
The UJF-3042HG also features a newly developed white ink circulation system that prevents pigment sedimentation. This not only improves the yield of white ink for more efficient consumption and reduced waste, but it also improves production throughput with less risk of wastage of expensive substrates.
In addition, the UJF-3042HG uses a nozzle recovery function that temporarily restores print quality, reducing potential downtime if maintenance issues should arise.

With the UJF-3042HG's automated primer function, Mimaki's PR-100 inkjet primer can be automatically applied through the inkjet system, as opposed to the previous manual application method. This primer improves adhesion and allows the use of materials that are not necessarily optimised for inkjet production, without affecting the look and feel of the substrates. Inline application allows for improved registration and faster production times. Spot priming only the areas of the substrate that will be accepting ink means less primer ink must be utilised, keeping costs in line while ensuring the utmost in quality.


The UJF-3042HG supports three different ink types in addition to the primer:
• LH-100 hard UV ink excels in scratch and chemical resistance as well as colour reproduction.
• LF-200 flexible UV ink enables stretching of ink up to 200% (new to the UJF 3042 family).
• LF-140 offers strong gradation in 6-colour printing (CMYK + LcLm) and is more flexible than LH-100 hard ink.

White and high gloss/matte clear inks are also available.


"Gloss and matte inks add significant value to the printed product," says Horsten. "These inks enable the designer to highlight specific areas of the piece, making images literally pop off the page and adding other special effects to increase both quality and production value. White ink, of course, is a critical component of printing in the sign and display industry, especially when using transparent or dark substrates. Our opaque white ink meets both requirements—blocking the transmission of light through transparent materials so that the overprinted colour stands out resulting in a broader colour gamut, as well as providing full coverage over darker materials, delivering a crisp image without any muddiness. We believe the ability to print using both white and clear inks on a desktop device is a first in the industry and we are proud to bring this capability to market."


More details about Mimaki products, including those featured at FESPA can be found at www.mimakieurope.com.