Success and a competitive edge in the print industry depend on a good mix of print products and reliable technology. In meeting these requirements the bizhub PRO C754, Konica Minolta's new colour multifunction printer (MFP), offers a powerful feature set of innovative technologies and strong price performance.
Its unfailing print engine, powerful scanning features, ease of use and affordable price makes the bizhub PRO C754 a safe investment for different application areas. Its convenient operation keeps the digital learning curve low and lets printers concentrate fully on their business.
In the print for pay business, time is money. With its intuitive and customisable user panel, the bizhub PRO C754 gives print providers the option to save valuable time by offering walk-in users self service for their copying, printing and scanning needs.
Mark Hinder, Production Print Market Development Manager says, "The bizhub PRO C754 is particularly suited to CRD printing. It provides a great mix of productivity and economic efficiency, especially on mixed short run jobs. And its embedded Fiery controller offers a range of valuable tools."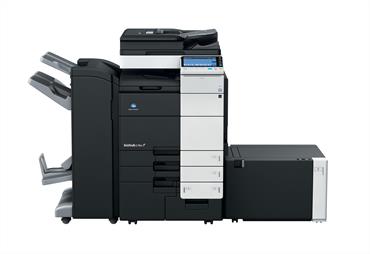 Efficiency is key for CRDs looking to support incoming requests with competence and creditable results. The bizhub PRO C754 fulfils their demands with powerful finishing features that increase productivity and allows print runs to be automatically completed without requiring any further manpower. Konica Minolta's new multifunctional device produces customised full colour content in house and on demand, saving both time and money. The technical reliability of the bizhub PRO C754 keeps the system up and running and gives productivity an additional boost. Widening the CRD's scope of duties, the bizhub PRO C754's scanning features easily turn it into a central scanning facility, offering direct digitisation into workflows so that users are left with more time to concentrate on their real tasks.
The Konica Minolta INFO-Palette design, a new touch screen interface, allows more advanced accessibility than ever before. With fast output speeds of up to 60 ppm in colour and 75 ppm in black and white, the bizhub PRO C754 can produce customised, full colour content in house and on demand, saving both time and money.
www.konicaminolta.co.uk