Rage Designs has a solid reputation as a producer of incredible custom bodywork and helmet graphics for motorcycle racers, but it says its newly installed Roland printer/cutter will see it return to its roots in the fan community.

Michael Boote started repairing motorbikes and painting helmets for friends in 1993, but by 2000 this hobby had become Rage Designs, a highly respected brand working with professional racing teams in the British Superbike Championship and more. Until 2008 the company – based in Cheshire, UK – had outsourced all its vinyl graphics work, before forming a partnership with a local sign-maker with whom it shared a VersaCAMM printer-cutter.

Ten years on, having produced work for racers including Troy Lee, Joe Screen, Steve Johnston, Carl Fogarty, Steve Hislop and Martin Jessopp, the scale of demand was such that Rage Designs decided to bring all graphics production entirely in-house. Michael bought a Roland VersaCAMM SP-300i, which allowed the company to monitor quality as well as significantly reduce turnaround times.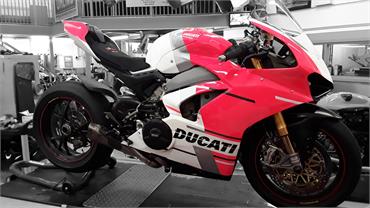 "It's the machine I dreamed of having," says the Rage Designs owner. "It's just brilliant. Everything you see on our social media photos has been produced on the Roland – I don't know how the company would work without it."
Michael admits that there was a learning curve involved after the VersaCAMM SP-300i was installed earlier this year, but the team soon got to grips with the VersaWorks RIP software and the numerous features of the printer/cutter hardware.
A typical job for Rage Designs is to print and cut motorcycle body decals with sponsors' logos. These are small – around 600mm wide – but each race requires around 50 for each design to allow for damaged decals to be replaced. It's also common for these stickers to be given out to fans at race events.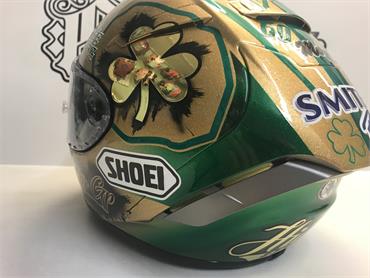 It's these fans that have directed the next step for Rage Designs. The company works with the biggest names in motorsport – racers, teams, bike brands and sponsors – but Michael Boote, a true fan at heart, wants to work more with the community.
"It sounds like a backwards step but it isn't really – we produce exclusive work for high-profile racing teams but I want to work for race fans, the guy in the street, as well," he explains.
"Recently we had an order for a BMW graphics kit from a private individual and he couldn't believe that a company who works with such famous riders would even reply to his email. When he received the work from us a few days later he sent a really cool thank-you message.

"The Roland printer/cutter means we can do more of that – really reconnect with the fans."
Michael adds that attending motorcycle races can be 'a bit of a busman's holiday' but he still loves going to events like the recent Isle of Man TT Races, which were 'absolutely fantastic – I'm still a massive motorcycling fan', he says.
He also loves his job, and has entered the Roland Hero Awards to share the story of Rage Designs with the world. Having picked up a Bronze Award at the MACtac Creative Awards for its bodywork for Shaun Muir's team at the 2018 World Superbike Series, Rage Designs is already speeding ahead in 2018.

"We are very happy we chose a Roland DG UK product and hope to continue a long relationship to pro-duce many more stunning helmets and bikes," says Michael. 'I absolutely love my Roland machine."

For more information on Rage Designs, please visit www.rage-designs.co.uk

For details on entering the Roland Hero Awards, please visit www.rolandhero.com