HP hands UK debut to new Stitch S series at The Print Show 2019


Digital print giant HP has confirmed that it will use The Print Show 2019 to demonstrate its new Stitch S series digital textile printing technology in the UK for the first time.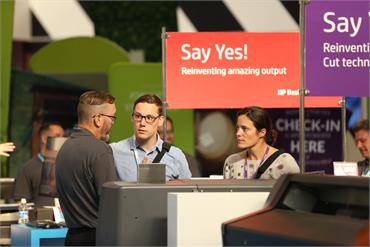 HP is exhibiting at The Print Show for the third consecutive year, and is inviting visitors from all backgrounds to drop by its stand and find out how HP kit can help them access work in profitable sectors.

The Stitch S series, which was only unveiled to the market in April this year, will be the main attraction on the HP stand, as the manufacturer seeks to spread the word about its digital textile print capabilities.

The range comprises the HP Stitch S300 and HP Stitch S500 64" models, as well as the larger HP Stitch S1000 126" option. Each printer couples HP's thermal inkjet technology with industry standard dyes for superior colour durability, and also features the first ever built-in spectrophotometer to enable fast and exact colour matching.

Phil Oakley, regional business manager, large format printing at HP, comments: "The HP Stitch S series is a portfolio of digital textile printers that deliver precise colour matching, designed to boost growth via décor and apparel applications, as well as enabling on-demand production and personalisation.

"Stitch represents HP's entry into the dye-sublimation textile market, delivering the world's fastest colour match capabilities."
Aside from the Stitch S series, HP will be showcasing its new HP DesignJet for the first time at a UK trade show, as well as its HP Latex technology, with a number of printer models to feature across the HP stand in Hall 9 of the NEC.

HP will theme its stand around 'Yes Unlimited', with the idea of showcasing how its broad and versatile portfolio enables customers to say 'Yes' to any request, regardless of the schedule or applications. This follows on from last year when HP named its stand 'Yesville', encouraging visitors to seek out new markets.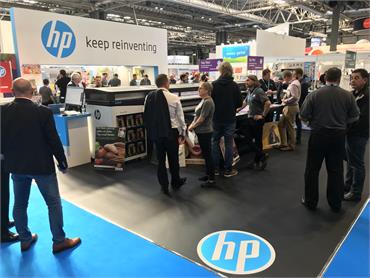 "Visitors will have access to a VIP tour of the stand to discover new soft signage, apparel, décor and large format capabilities for engineering, public sector and enterprise markets," Oakley says.

In addition, as a special bonus feature for The Print Show, HP will be running its own game show on its stand in the 'HP Large Format Wheel of Fortune'. More details of this will be revealed closer to the event in September.

HP will be in excellent company at The Print Show 2019, with a number of other major brands, manufacturers and suppliers having signed up to exhibit. In recent weeks, the likes of Sakurai, Grafityp, CP Bourg/Terry Cooper Services, NeoPost, Merlin Transfers, Boxford, X-Press OnDemand, Automatic Letter Bender and Universal Adhesive Systems have all booked their stands for the event.

Sakurai, which specialises in both offset and screen print presses, will be taking full advantage of the show's wide reaching audience by displaying its MS-102 screen printing kit and LQM foiling solutions.

For years, Sakurai screen technology has been used to overprint spot UV varnish onto offset printed sheets in B1 and B2 formats and the manufacturer has now added luxe-quality foil to the mix to offer "breathtaking options" for creativity with print embellishment.

Mark Priest, UK sales manager for Sakurai, says screen printing – an analogue process in what is now a digital world – has become extremely automated and precise, and visitors at The Print Show can learn more about the benefits of this technology.

Priest says: "Come and have a look at what an analogue process can produce. The detail, the contrast we can achieve, it's so creative.

"We will showcase some simple effects that can be achieved printing live at The Print Show. We hope to inspire new clients to screen printing, by offering packages that include state of the art functionality, the pinnacle of screen printing equipment."

The Print Show 2019 will take place from September 17th to 19th at the NEC in Birmingham. Registration is free and now open at The Print Show's website: www.theprintshow.co.uk