Epson extend remote proofing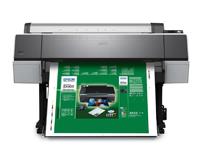 The Epson SpectroProoferT option makes remote proofing a reality.

Epson is launching the 24" Stylus Pro 7900 and 44" Stylus Pro
9900, setting a new standard for the professional large format printer
market. An improved ink formulation, a new printer mechanism and a raft of
new technologies make these two new additions to the Epson Stylus Pro range
ideal for production and contract proofing, as well as the highest quality
fine-art and photographic applications. They will also enable printers to
extend their business into the demanding packaging proofing and flexographic
markets. In addition an optional calibration and verification system, the
Epson SpectroProoferT, means the Stylus Pro 7900 and the Stylus Pro 9900 can
be a confidently used for remote proofing.

The new printer mechanism implemented in the Stylus Pro 7900 and 9900 builds
on Epson's MicroPiezo TFPT (Thin Film Piezo) print head, introduced with the
launch of the Stylus Pro 11880 last year. It delivers perfectly spherical
dots with high precision dot placement and can deliver resolutions up to
2880 dpi. Both the number of nozzles and throughput has been doubled in the
Stylus Pro 7900 and 9900, resulting in a maximum speed of up to 40m2/hr.

The Epson Stylus Pro 7900 and Stylus Pro 9900 utilise a new 5th generation
pigment ink, which is key to the quality of print output. Epson UltraChromeT
HDR (High Dynamic Range) ink is an 11-colour ink set consisting of Pk, Mk,
Lk, LLK, C, VM, Y, Lc, VLm, Or and Gr available in 350ml and 700ml
cartridges. This high quality ink set expands on Epson's UltraChromeT K3
with Vivid Magenta by adding Orange and Green inks, which significantly
increases the range of colours that can be achieved, especially bright green
to yellow, and yellow to red. The Orange ink in particular contributes to
reducing the graininess in skin tone. Epson UltraChromeT HDR pushes the
limits of ink chemistry to deliver the widest colour gamut on the market to
date on a variety of media. This makes the Stylus Pro 7900 and 9900 ideal
solutions to address the high demand for colour representation in proof
production, especially when there is a particular requirement for spot
colours.

The new ink technology's ability to both maximise the colour gamut without
sacrificing print quality and deliver smoother gradation is optimised by
Epson's new LUT technology. Through advanced mathematical translation of RGB
into 11-colour CMYK, the LUT technology seamlessly integrates hi-fidelity
primaries allowing colour constancy under different light conditions,
smoother transitions between colours, grain reduction and gamut smoothing.

The optional Epson SpectroProoferT tool turns the Epson Stylus Pro 7900 and
Stylus Pro 9900 into a reliable, consistent and repeatable proof
verification and printer calibration solution, making remote proofing a
reality. By using this spectrophotometer solution, the following colour
control workflows can be achieved automatically and very precisely: colour
calibration, colour certification, a daily colour check, profile creation,
spot colour matching, colour shift tracking and target measurement.
Furthermore, a colour certification label, like the Fogra wedge, can be
printed to support the certification process. The Epson SpectroProoferT
in-line, off-carriage calibration and verification system is powered by an
X-Rite spectrophotometer and controlled by Epson SpectroProoferT software or
a third party RIP. It is available with or without a UV-cut filter as well
as changeable black or white backing.

Other new technologies featured in the Stylus Pro 7900 and 9900 include the
ability to automatically switch between Photo and Matte Black inks; an
integral automatic media rotary knife cutting system; a new spindleless roll
holder mechanism; a new automatic paper set/release mechanism and Epson's
new automatic nozzle check technology. In addition, the launch of the two
new printers also sees the launch of a new line up of high performance fine
art media, as well as backlit media.